Lightroom presets are a crucial part of my photo editing process. Not only do I use presets by other creators, but I also create my own. And today is the day when I release my newest Lightroom preset pack – Summer. Right on time for Summer! It has been almost 1.5 years since I released my previous Creative Mood preset pack which is my most popular pack to date.
In this Lightroom preset pack, I have combined both the dark and moody look as well as the light and dreamy look my photos have. I have worked on these 24 presets for a whole year, starting with last Spring when I looked for new inspiration and new ways to edit my photos. With this preset pack, you will achieve the look my photos had throughout the whole 2022 year up to the current, 2023 year.
If you're new here, hi – I am a passionate flower and macro photographer who loves to edit. Besides this brand-new preset pack, I have four more Lightroom preset packs:
Spring vibes – free of charge – you can download and try them instantly. 9 presets in the pack
Fall presets – to enhance your Autumn photos. Can be purchased. 12 presets in the pack
Winter presets – so that you can spice up your boring grayscale winter photos. Can be purchased. 14 presets in the pack
Creative Mood presets – turn your casual photos into moody masterpieces full of color. My go-to preset pack for editing photos in 2021 and 2022. Can be purchased. 20 presets in the pack.
Do you know what this means? I have Lightroom preset packs for all four seasons now! You can get your hands on my Spring, Summer, Fall, and Winter presets to master editing all year round.
Now it's time to get familiar with my freshest preset pack addition – Summer presets.
About the "Summer" preset pack
The Summer Lightroom presets are available both on mobile devices and on desktop versions of Lightroom (CC and Classic). They can also be used in Adobe Photoshop Camera RAW Filter.
You can visit my Instagram page – @macro.viewpoint – to see the end result of my edits by using these presets.
The Creative Mood Lightroom preset pack includes 28 preset files altogether. Divided into four volumes, the pack acts as four separate packs that you can get individually with 6 presets (having some with variations) in each. These are the presets included in the VOL1 pack: Afterglow, Blushed Away, Cherry Blues, Creative Greens, Forest Mood, and Golden Rain (1 & 2 & 3).
VOL2 pack includes the following presets: Evening's Charm, In The Shadow, Nighttime, Once Upon a Forest, Wind Chimes, and Windy Fade.
VOL3 pack includes the following presets: Golden, Gorgeous Red, Morning Haze (1 & 2), Peak Ray, Sunbeam, and The Storm.
VOL4 pack includes the following presets: A Sprinkle of Light, Floral Contrast (1 & 2), Golden Sprinkles, Night Dew, Pastels, and Summer Glow.
Please note: If you use Lightroom mobile, you need the paid version of the app (with unlocked masking) to fully experience the power of the presets. Some of the presets include selective masking adjustments. If you wish to acquire the preset pack that will work with the free version of Lightroom mobile – the VOL4 is the one to go for. Every preset in this volume provides the full promised result without the use of masking.
Demo of Summer Lightroom presets
Here's a look at what each of the Lightroom presets can do and how they can transfer your photos!
Use the slider to reveal the Before and After photos.
VOL 1
The first of the four volumes for the Summer presets – contains 6 presets (9 preset files).
001 Afterglow
002 Blushed Away
003 Cherry Blues
004 Creative Greens
005 Forest Mood
006 Golden Rain
VOL 2
The second of the four volumes for the Summer Lightroom presets – contains 6 presets.
007 Evening's Charm
008 In The Shadow
009 Nighttime
010 Once Upon a Forest
011 Wind Chimes
012 Windy Fade
VOL3
The third of the four volumes for the Summer Lightroom presets – contains 6 presets (7 preset files).
013 Golden
014 Gorgeous Red
015 Morning Haze
016 Peak Ray
017 Sunbeam
018 The Storm
VOL 4
The last of the four volumes for the Summer Lightroom presets – contains 6 presets (7 preset files).
019 A Sprinkle of Light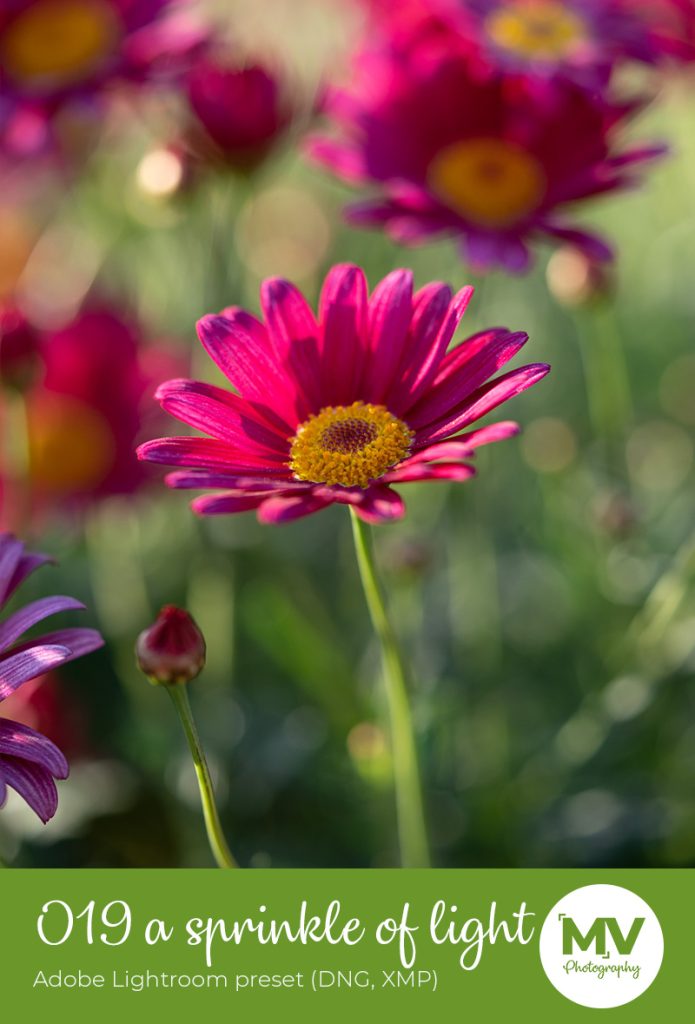 020 Floral contrast
021 Golden Sprinkles
022 Night Dew
023 Pastels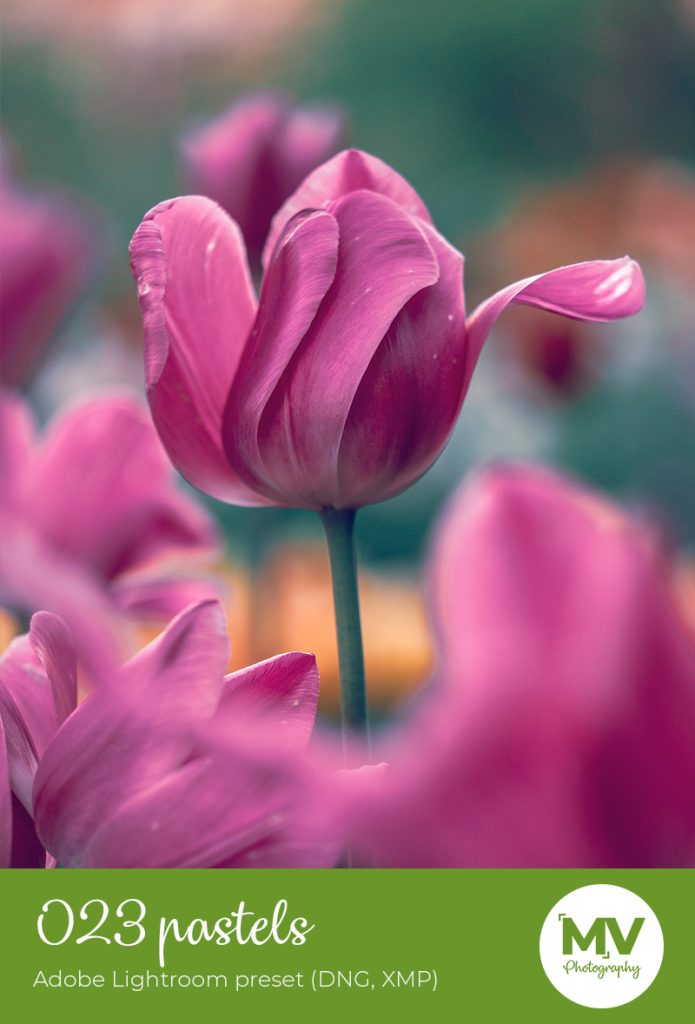 024 Summer Glow
Installing the Lightroom presets
While it's quite easy to install the presets, understanding how to do so yourself for the first time could be challenging. Click here to read my tutorial on installing Lightroom presets on mobile or desktop (with pictures).
Pricing & How To Get These Adobe Lightroom Presets
The pricing starts from €4.95 per volume.
There are three ways to purchase the presets:
1. Subscribe to my Patreon!
The Macro VIP tier will gain you access to one volume per month while the Macro VIP Extra tier will get you two. The Macro VIP & Macro Fan tiers will allow you to get one preset each month. To get all the presets right away, send me a message and I can open up a bigger tier for you.
In addition to presets, you will also get other benefits for the same price, such as my Photography & Editing Tutorials, Tips, Before & After reveal with step-by-step explanations and digital photo downloads.
2. Get it on Etsy.
3. A PayPal transfer. To purchase this way, message me on Instagram and I will let you know the next steps.